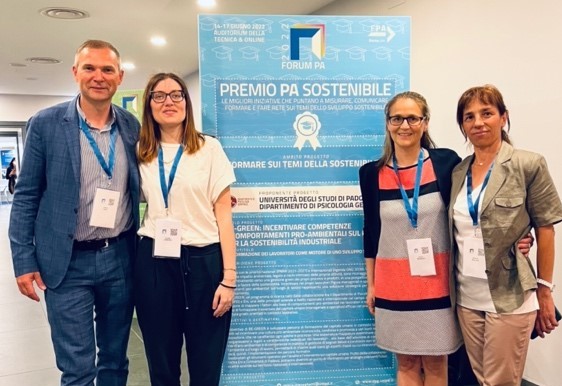 During the FORUM PA 2022, the three-year "BE-GREEN" research programme, funded through the REACT EU resources by the NOP Research and Innovation 2014-2020, received the Sustainable and Resilient PA Award 2022 as one of the most innovative and sustainable solutions in the "Formare sui temi della Sostenibilità" (training on sustainability issues) category.
The programme titled: "BE-GREEN: incentivare competenze e comportamenti pro-ambientali sul lavoro per la sostenibilità industriale" (encouraging pro-environmental skills and behaviour at work for industrial sustainability) carried out by the Department of General Psychology at the University of Padova in collaboration with ENI, aimed to map the factors underlying pro-environmental behaviour in workers and to develop training programmes studied to effectively promote a green-oriented culture in the workplace. The researchers made innovative use of models and methodologies from cognitive and environmental psychology, developing an ad hoc questionnaire and cross-training programmes.
The BE-GREEN project is an example of use-inspired basic research which addresses sustainability and environmental protection issues according to an evidence-based, interdisciplinary and collaborative approachbetween the academic and business worlds. The Department of General Psychology was involved in the BE-GREEN working group through Prof. Francesca Pazzaglia (Head of the Department) and Prof. Chiara Meneghetti, Elena Carbone, fixed-term researcher, engaged in the project implementation, in collaboration with Dr Alberto Rosso, an expert in training on sustainability issues. ENI was involved through Dr Paola Volpe, engineer, Manager of Environment – HSEQ, together with Dr Ivan Innocenti, engineer, and Dr Monica Musicanti, HSEQ environmental project coordinators.
"In line with national (NRRP 2021-2027) and international (UN 2030 Agenda) priories, BE-GREEN aims to address the need to promote a change towards industrial sustainability, with special focus on the human capital of companies," explained Chiara Meneghetti, principal investigator. "Scientific evidence suggests that encouraging pro-environmental skills and behaviour in workers (both managers and operational staff) is a strategic solution for companies to facilitate this change. We believe that BE-GREEN is of great scientific, economic and social importance and we are confident that it will have an important impact on environmental sustainability."
The project was awarded during the FORUM PA 2022 as one of the most innovative and sustainable solutions in the "Training on Sustainability Issues" category as part of the Sustainable and Resilient PA 2022 initiative promoted by FPA in collaboration with ASviS with the aim of identifying and enhancing experiences, solutions and projects designed to promote the sustainable and inclusive growth of the country.