The green transition in the military sector takes an important step forward with the first experimental flights of a military jet powered by a fuel mixture containing up to 25% biofuel.
The tests, as reported by the National Research Council (CNR), were carried out as part of a cooperation agreement between Aeronautica Militare (the Italian Air Force), CNR and ENEA launched in 2017, thanks to funding from the then Ministry for Environment, Land and Sea Protection, now Ministry for Ecological Transition (MITE), for the production of biofuels and their use in the aeronautical field.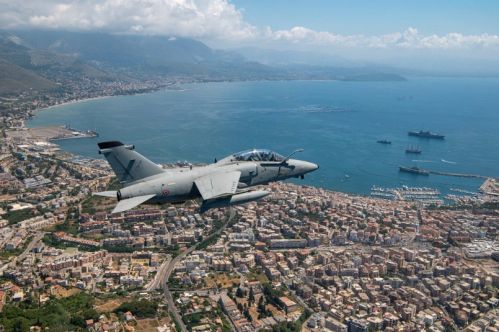 The tests were conducted at the Space and Aeronautics Experimental Air Division (DASAS) in Pratica di Mare on an AMX fighter aircraft by highly qualified pilots and personnel of Aeronautica Militare from the Experimental Flight Department and the Aeronautical and Space Materials Technology Department of DASAS, following study and experimental activities carried out in collaboration with researchers from ENEA and three CNR Institutes: Institute of Atmospheric Pollution Research, National Institute of Optics and Institute of Science and Technology for Energy and Sustainable Mobility.
The agreement included ground engine tests to verify the performance of fossil fuel mixed with biofuel at different percentages (from 20% to 25%). It also made it possible to compare the levels and types of emissions of the different blends with those of traditional fossil fuels, and to carry out numerous tests to verify the compatibility of the pure biofuel, at different concentrations, with the metal and elastomeric materials of the aircraft to exclude any problems with the engine or plastic parts.
Before carrying out the experimental flights, preliminary chemical-physical analyses for the qualification and certification of the biogenic fuel and of the fossil fuel selected for blending were conducted by the Aeronautical and Space Materials Technologies Department (RTMAS), in collaboration with the Technical Control Laboratories of the Logistics Command Support Service. Finally, the micro batch of the biofuel mixture used to refuel the AMX aircraft during the tests was developed with the contribution of the Technical and Operational Support Department at DASAS. The two flights carried out – the first one with a blend containing 20% biofuel and the second one with a blend containing 25% biofuel – were planned and conducted by the Experimental Flight Department, which also collected engine performance data.
ENEA carried out a preliminary study for the identification of the most suitable plant matrix for the production of aviation biofuels, as well as the characterization and toxicological assessment of aircraft emissions for the economic sustainability evaluation.
The tests are part of a series of initiatives developed by Aeronautica Militare to support the search for and implementation of effective solutions for the performance of institutional tasks in a global context that is becoming more and more aware of such issues as environmental sustainability and energy efficiency and security.
Source: CNR