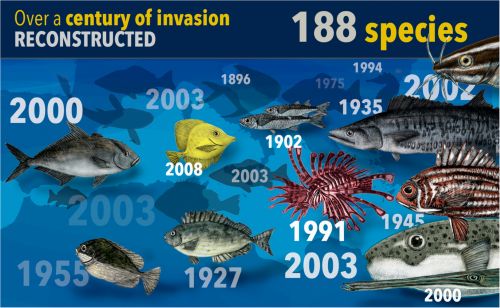 The Mediterranean is the marine region most invaded by exotic biological species in the world. This emerged from a study led by the National Research Council's Institute for Biological Resources and Marine Biotechnology (CNR-IRBIM) of Ancona.
The study also involved researchers from Stazione Zoologica Anton Dohrn (SZN) in Naples, the Experimental Zooprophylactic Institute of Southern Italy (IZSM) in Naples, and the Institute for Environmental Protection and Research (ISPRA).
The research, published in the journal Global Change Biology, reconstructs the history of biological invasions for fish species introduced since 1896, revealing how almost 200 hundred new fish species have entered the mare nostrum in the last 130 years.
"The study shows that the phenomenon has had a rapid acceleration starting in the 1990s and that the most recent invasions have been able to achieve the most rapid and spectacular geographical expansions," explained Ernesto Azzurro, CNR-IRBIM, study coordinator. "For over a century, researchers from all Mediterranean countries have documented this phenomenon in the scientific literature, identifying over 200 new fish species and reporting their catches and progressive expansion. By reviewing hundreds of these articles and georeferenced observations, we have been able to reconstruct the progressive invasion in the Mediterranean."
The researchers identified, in particular, two introduction routes for exotic species. "Red Sea species, entered through the Suez Canal (opened in1869), are the most represented and problematic. There are, however, other important vectors such as maritime transport and release from aquaria. The researchers also considered the introduction of Atlantic species through the Strait of Gibraltar," added Azzurro.
The ecological and socioeconomic impacts of this phenomenon are not negligible.
"Some of these species represent a new resource for fishing, well adapted to tropical climates and already used in the easternmost sectors of the Mediterranean," explained the researcher. "At the same time, many 'invaders' cause the deterioration of natural habitats, drastically reducing local biodiversity and competing with native, endemic and more vulnerable species. The spread of these species is so fast that it has already changed the faunistic identity of our sea. Therefore, reconstructing the history of this phenomenon can help us to better understand the ongoing transformation and provides a remarkable example of biotic globalization in marine environments across the world."